Manufacturing

Hangzhou, Zhejiang Province, China
Packing

Shrink Wrapping Machine
Warehouse

Caribou, Maine (USA)
Sea Shipping

Worldwide Container Shipping
Manufacturing
Hangzhou, Zhejiang Province, China
Packing
Shrink Wrapping Machine
Warehouse
Caribou, Maine (USA)
Sea Shipping
Worldwide Container Shipping
Ecommerce
We currently operate online retail stores for 2 out of our 5 brands. In addition to our own online stores, our products rank in the top 100 of several Amazon categories and are available through Amazon Prime shipping.
Learn More
OUR STORY
We started out in 2010 as a small internet business and have grown to shipping 20,000+ orders a month in 2018.
Read more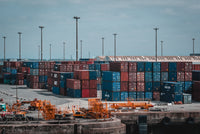 5 Unique Brands
We offer products from party supplies, to children's products, books, shipping supplies, and retail products across 5 unique brands.
Check now
Importing
FCL Container Shipping, LCL Container Shipping, and Air Shipping From China.
Product Design
Product / Packaging Design, and Manufacturing.

Online Marketing
Marketing of Products Online Through Marketplaces, Social Media and More.